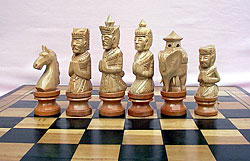 ABC-CHESS
Rungkut megah Raya J-11
Jl. Raya Kali Rungkut No 5
Surabaya 60293
Telp: +62-81-1305397
Fax : +62-31-8707557

Email : mail


ABC-CHESS.com is a company business in Surabaya - Indonesia, the city with the thousand of arts, which specialize in making all kind of wooden-chess.
It was founded by the talented local craftmen in 1989. The business brought together their artistic talents to create beautiful, hand-crafted reproduction antique, and ornamental chess sets.
The chess sets which are made by us is unusual chess which could be found in every corner of a town, but we made with the very much special design of chess. All part of chess are crafted to be closed with the real one. Let's take the King as an example, they made the King like it should be. It wears crown, etc. The horse was crafted like the real horse. Things to be crafted are not only the chess itself but also the board.

In making the chess we use only the best wood like teak, mahogany, etc.