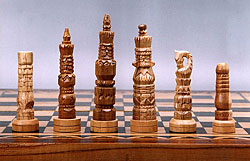 Whole Sale
from all the world Welcome!.
We can give special price on quantity orders.

Every Chess Sets or Chess Board have different price for every type,
You can see on each menu to look how much the price. Price depend of how difficult to make the pieces.
We sell only to Wholesaler (except giant chess), these products are made from mahogany, sono keling (rose wood) or teak .